Final Issues in Society titles out now
May 25, 2022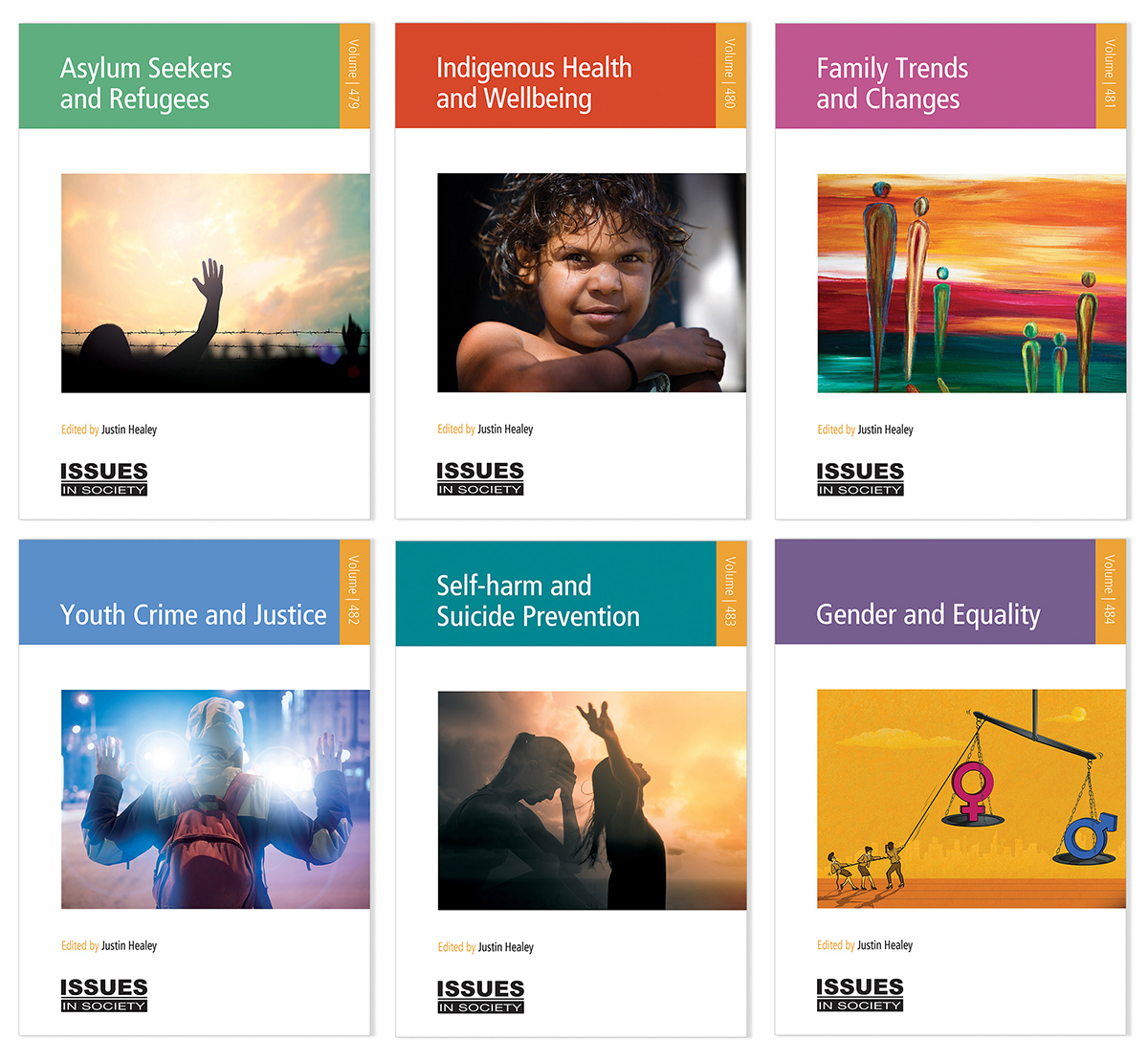 Last new editions have been released in the Issues in Society series.
After 30 years of publishing resources on current social issues, The Spinney Press has ceased further production of new titles in the Issues in Society series.
The Spinney Press will continue to trade over the next 6 months and offer customer sales support for all backlist Issues in Society print and Digital Editions – via email and online.
Volumes 479-484 are the last new editions in the series, and represent a solid spread of core topics of concern over the years.
These final releases are out now:
Asylum Seekers and Refugees (Vol 479)
Australia's treatment of asylum seekers has been under a spotlight in recent years. Controversial policies include offshore processing and harsh mandatory immigration detention, restricted community detention, resettling refugees in other countries, and temporary protection visas. What is the experience of asylum seekers and refugees in Australia?
Indigenous Health and Wellbeing (Vol 480)
Indigenous burden of disease is 2.3 times that of non-Indigenous Australians; rates of psychological distress and chronic diseases are higher; disparities exist across education, housing, employment and income; access to health services is limited. How do we improve on indigenous health and disadvantage and meet the latest Closing the Gap targets?
Family Trends and Changes (Vol 481)
This book explores the latest family trends, changes and diversity, featuring a range of family types including single parent families, step and blended families, rainbow and same-sex families. It also examines the quality of family relationships, and the challenges families face in the modern age.
Youth Crime and Justice (Vol 482)
Examines the latest youth crime data and explores key youth justice issues including: tough-on-crime policies; detrimental impacts of detention; Indigenous over-representation; raising the minimum age of criminal responsibility; detention as a last resort and diversionary alternatives; and improving programs in youth justice detention.
Self-harm and Suicide Prevention (Vol 483)
Explores risk factors, warning signs and responses to self-harming and suicidal behaviours. Prevention strategies are explained, focusing on help-seeking and enhancing protective factors. Self-harm and suicide prevention requires coordinated action from governments, individuals, families and the whole community. Learn to cope with help and support.
Gender and Equality (Vol 484)
Examines gender inequality issues, including global progress on women's rights; gendered violence and abuse; sexist attitudes and behaviours; closing the gender pay gap; ending sexual harassment and sex discrimination at work; and advancing women in leadership positions in politics and workplace management.
Warmest regards,
THE SPINNEY PRESS
Issues in Society – 1992-2022
Download your Digital Editions by 31 December 2022
Download Now