July 2021 titles are available now
July 27, 2021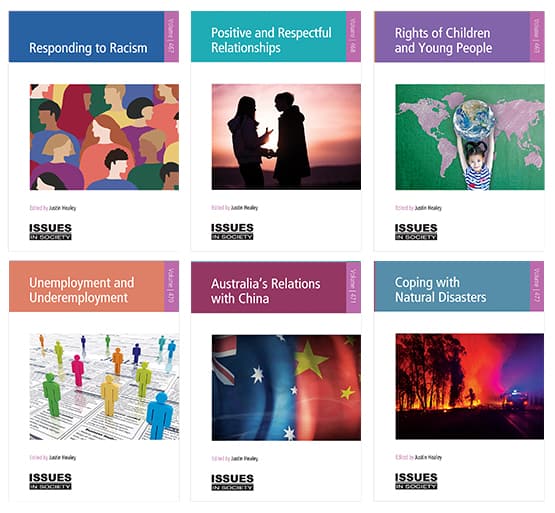 The July issues have been released, featuring a range of topical new and updated themes:
Responding to Racism
Learn how to recognise racism and respond with equality and respect for people of every race, colour and creed. Topics explored include casual racism, hate speech, cyber racism, Islamophobia, anti-semitism, white supremacist extremism, abuse of Asian people during the coronavirus pandemic, the influence of the Black Lives Matter protest movement, and the longstanding racial justice calls by Australia's First Nations peoples.
Positive and Respectful Relationships
Couple relationships have their ups and downs, however partners should always treat each other with respect, and feel safe. This book is aimed at young people and explains the issues around sexual consent, how to effectively communicate and avoid conflict, and how to avoid abuse in couple relationships. Practise positive behaviours and relate with respect.
Rights of Children and Young People
Children and young people have the same general human rights as adults, but also possess specific rights that recognise their special needs and potential. This book explains how these rights are set out in the United Nations Convention on the Rights of the Child – the most widely ratified human rights treaty in history. It also examines the state of children's rights in Australia, where there have been some positive developments, but also a number of critical issues and mixed results. Are the human rights of our children and young people at risk?
Unemployment and Underemployment
This title explains the fundamentals around the measurement and types of unemployment and reveals who it most affects. It also examines the latest employment trends and impacts of casualisation on job security. Government policies and social sector strategies for tackling the economic and social consequences of unemployment and underemployment are also featured. Finding a job, and indeed enough employment, can be hard work in itself.
Australia's Relations with China
The Australia-China bilateral relationship is very significant to Australia and is mostly based on substantial trade ties. China's blunt use of repeated trade sanctions to penalise Australia for alleged slights risks the mutually beneficial trading relationship being undermined by damaging political interference. What are the various grievances and points of difference between these two countries? How can Australia serve its own national and strategic interests and maintain its foreign policy objectives, without needlessly antagonising China? Can we end the trade war and repair relations?
Coping with Natural Disasters
The major bushfires and floods of the past two years have demonstrated how increasingly exposed Australia is to natural hazards, causing distressing loss of life and property, and devastating the environment. How should we better prepare for natural hazards and mitigate their impacts from becoming disasters; and how can we cope during and after they have occurred? What could we do at a government, emergency services, community and personal level to protect ourselves, develop resilience, and recover from the next major natural disaster?
Stay up to date with the latest news & releases
Sign Up Now