January 2021 titles released
January 21, 2021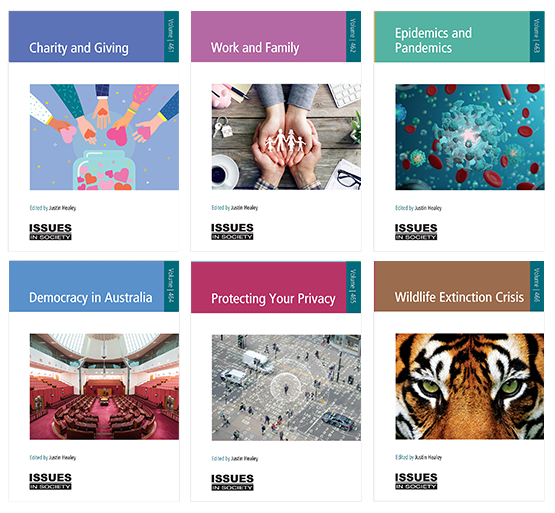 The January issues are out now:
How do you choose the right charity to match a righteous cause, so your donation counts? Why do people give, and how can it be done responsibly and effectively?
Explores the realities of parenting and gender roles, and looks at how workers and employers achieve work-family balance through family-friendly, flexible work and child care options.
What are the health, economic and social challenges caused by infectious disease epidemics and pandemics – especially COVID-19? Compares Australia's approach with other nations in controlling the coronavirus, and explores how other vaccine-preventable diseases are being managed in Australia.
Examines Australians' levels of trust in their elected leaders, looking at how our political system functions between the various levels and roles of government, as well as exploring opportunities for democratic reform.
Privacy is a fundamental human right and includes physical privacy, information privacy and surveillance. This title examines rights and responsibilities in relation to privacy and personal information, shines a light on growing digital surveillance, and offers advice on how to preserve individual privacy and protect personal information online.
Explores the state of the world's wildlife extinction crisis and examines the factors threatening wildlife survival in Australia and globally. How can conservation better protect the planet's biodiversity and prevent more species from becoming extinct?
Stay up to date with the latest news & releases
Sign Up Now